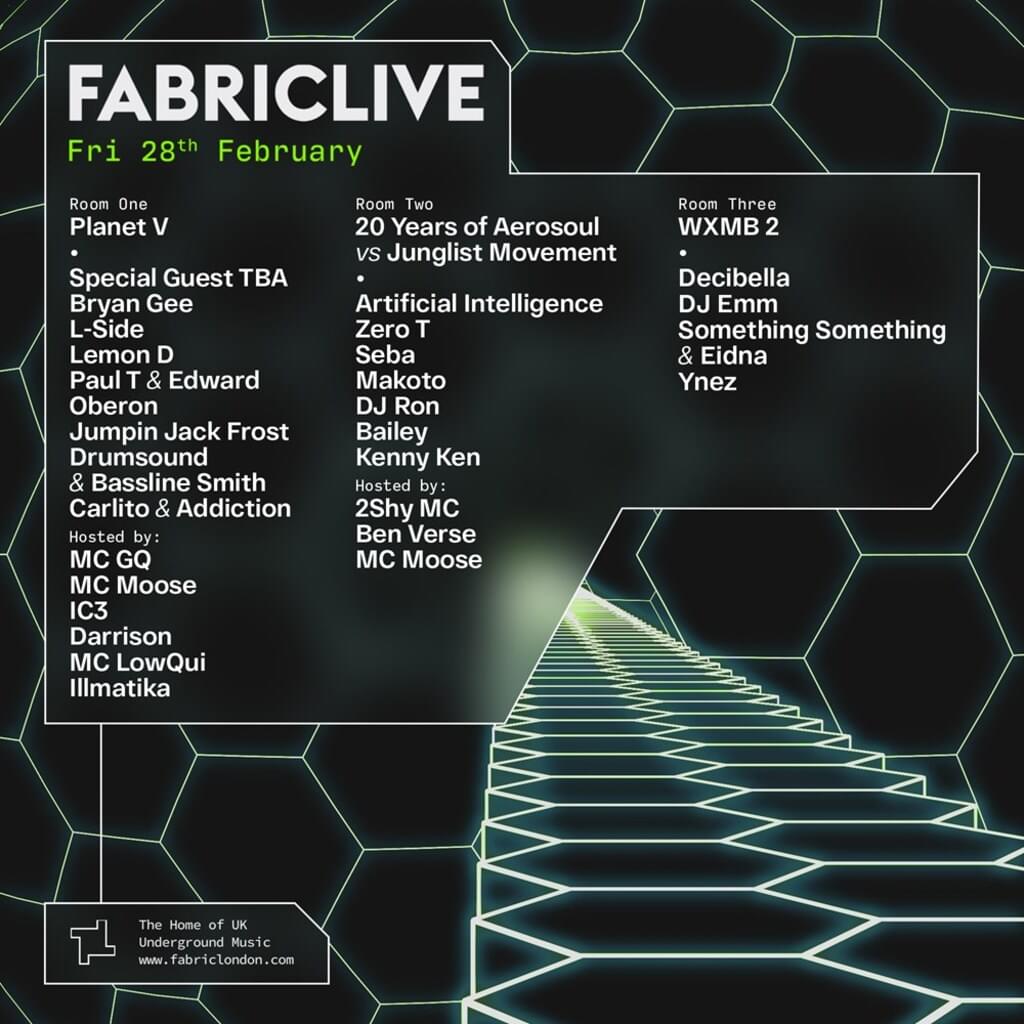 Planet V: London
Fabric, London, UK
Friday 28th February 22:00 - Saturday 29th February 06:00
FABRICLIVE

Room One: Planet V
Special Guest TBA
DJ BRYAN GEE
L-Side
Lemon D
Paul T & Edward Oberon
JUMPIN JACK FROST
Drumsound & Bassline Smith
Carlito & Addiction
Hosted By: GQ, MC Moose, IC3, Darrison, LowQui MC, Illmatika
Room Two: 20 years of Aerosoul Limited vs Junglist Movement
Artificial Intelligence
Zero T
Seba
MAKOTO
DJ Ron
Bailey
Kenny Ken
Hosted By: 2SHY MC, Verse, MC Moose
Room Three: WXMB 2
Decibella
DJ Emm
Something Something & Eidna
Ynez
FABRICLIVE hosts some of the most prolific crews in drum & bass history as Planet V, Aerosoul and Junglist Movement, with WXMB 2 also set to join. Room One is charged by Planet V, the brainchild of jungle pioneers Bryan Gee and Jumpin Jack Frost. The pair's leading imprint shaped the early years of D&B, and has remained at the forefront of the scene for more than two decades. The label has also been a big part of our story, hosting our first FABRICLIVE rave back in 1999. This February, they tell the story of V from the early 90s through to today, with Lemon D repping the foundation years alongside Bryan Gee and Jumpin Jack Frost. Close affiliates to V since 2003, Drumsound & Bassline Smith also join, while newer faces L-Side and Paul T & Edward Oberon also stand in. Carlito & Addiction also land, with one more very special guest set to be revealed soon. Pairing up with some of the sound's finest selectors, the room is hosted by a team of D&B's leading MCs: GQ, Moose, IC3, Darrison, LowQui and Illmatika.
Room Two is a showcase of drum & bass with a liquid funk edge, with Aerosoul celebrating their massive 20-year anniversary alongside Junglist Movement. Both crews hold a place at the heart of the scene today, and their next showcase with us is set to celebrate the instrumental side of 170BPM club music. The original pioneers of liquid, Artificial Intelligence bring the cutting style that's found on their releases for the likes of V, Metalheadz and their own imprint, Integral. Zero T is back for a serving of high-precision breaks, while Seba displays his singular atmospheric style. Makoto brings his soul-drenched Brazilian flavour, with the bill rounded off by three time-tested favourites and longstanding mainstays of our space: DJ Ron, Bailey, and Kenny Ken. 2Shy, Ben Verse and Moose take on hosting.
WXMB 2 take over Room Three. The London platform was founded on an ethos of supporting womxn and non-binary folk working within the music industry, and through their festival stage takeovers, organising workshops, panel discussions and promoting rising talents via their online platforms, they've quickly built a growing community of followers. For their first night with us, they recreate the format of their regular events by placing the spotlight on a team of next generation artists pushing electronic music forwards: Decibella, DJ Emm, Something Something & Eidna and Ynez.
FABRICLIVE – The Home of UK Underground Music.
Advance tickets are now available via RA, including limited £10 early bird tickets: fabricldn.co/jrv4kc
fabric is an over 19s venue
Please remember to bring ID with you. No ID, no Entry.
fabric operates a zero tolerance policy to drugs. Anyone found with illegal drugs will be banned from the venue and reported to the police.
---